About
The Watson International Organization
The Watson International Organization is a real estate conglomerate comprised of a top brokerage company currently licensed at The Corcoran Group in New York City, a general contracting company, an interior design company, a property management company, a real estate coaching and consulting company, and a vast property portfolio.
Antonia Watson
Founder & Chief Executive Officer
Founder and CEO of The Watson International Organization, Antonia Watson has acquired more success in her real estate career than most real estate professionals ever actualize. Antonia specializes in high end residential and commercial real estate, and has closed many of New York City's record breaking deals. Antonia's yearly sales volume places her in the top fraction of the top 1% of real estate professionals internationally. She holds the designation of Senior Global Advisor at Corcoran where she ranks consistently in the top 25 at New York City's #1 real estate firm. She has received countless awards for accomplishments in her field and is consistently mentioned in the press. Antonia achieves "Multi-Million Dollar Club" status yearly, and is frequently the recipient of Top Listing Agent and Top Sales Agent Awards. She has ranked in the "Top 100" of NRT – the largest publicly traded real estate firm in the United States comprised of over 57,000 licensed agents and over $166 billion in annual sale volume. Additionally, Antonia has been featured on real estate television shows such as Bravo's hit series "Million Dollar Listing New York" and HGTV's "Selling New York." Among others, Antonia is frequently mentioned in The Real Deal, The New York Times, Curbed, Brokers Weekly, The Mann Report, Brick Underground, Avenue Magazine, Real Estate Weekly, AM New York, and The New York Post.
Raised in a real estate family, Antonia provides unparalleled knowledge, wealth management consulting, strategic estate planning, creative marketing techniques, and concierge services to her clients both locally and abroad. She is an expert in all fields of Real Estate, licensed as a Broker of Real Estate, General Contractor, Property Manager, and Global Advisor. In addition, Antonia is a prominent landlord, real estate investor, and developer herself with an expansive and varied portfolio throughout the country, which she built entirely debt free, as she did her business conglomerate. For these reasons among others, Antonia is an esteemed and highly sought after speaker, panelist, training coach, and consultant.
Antonia's drive and impeccable reputation for settling for nothing less than excellence is evident in both her professional and personal milestones. In addition to her extensive list of real estate related achievements, Antonia is a Magna Cum Laude graduate of Rutgers University and a former professional level ballet dancer of the Joffrey Ballet, the American Repertory Ballet, and the Boston Conservatory to name a few. Lastly, Antonia is a significant benefactor and philanthropist. She is Founder and President of The DeVito Watson Foundation, a private foundation committed to numerous charitable objectives.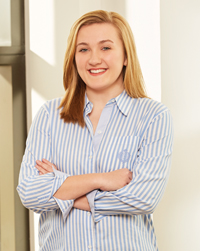 Kristin Mowbray
Director of Operations
Kristin Mowbray is an integral member of The Watson International Organization. As second in command to the CEO, Kristin ensures the streamlining of transactions and projects from inception to completion. She coordinates the operations of all branches of the organization, and manages all lines of inter-company communication as well as client interface. Additionally, Kristin is a senior member of the organization's Advisory Board.
Kristin is a native New Yorker and the daughter of a veteran Manhattan Real Estate Appraiser for whom she interned for many years. In addition to her extensive experience in the Real Estate Appraisal sector, Kristin is a member of the Mathematical Association of America and holds a degree in Economics from Villanova University. As such, Kristin is uniquely qualified to assist in the evaluation of property prices and to analyze market trends.
Kristin is a member and supporter of the Greenbelt Conservancy, a 501(c)3 non-profit organization in partnership with NYC Parks committed to the preservation, promotion, sustainability, and enhancement of Staten Island's 2,800 acre natural habitat. She is also a volunteer and board member of the DeVito Watson Foundation.